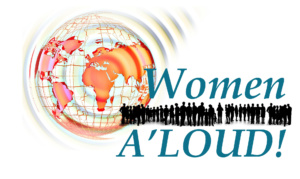 Women A'Loud! is the show for and about women. It has been broadcast and streamed over four different stations
and is now a podcast on Network Listen. It has been my great honor to create and host this show; to provide a platform for issues, concerns, interests, and celebrations specifically for and about women. The range of topics we cover tend to be the vast majority which mainstream media outlets ignore or skim over.
The show/podcast typically consists of the following segments:
"What Came Before" honors an array of history that brings us to our present, for we know we cannot create
a future without recognizing the past.
In "State Slate" we explore the world of news as it pertains to women,
mainly reporting upon topics the mainstream media skips over.
"LetHer Shine" is our favorite "letter" and every week we spotlight a woman.
All of this before we sit down and talk about the business of being a woman with a woman!
Many past episodes and shows will soon be in the Library on Network Listen.
If you're interested in syndicating Women A'Loud!, Contact Network Listen or me, Shawn Marie Bryan
Here is a video enhanced example, or two: